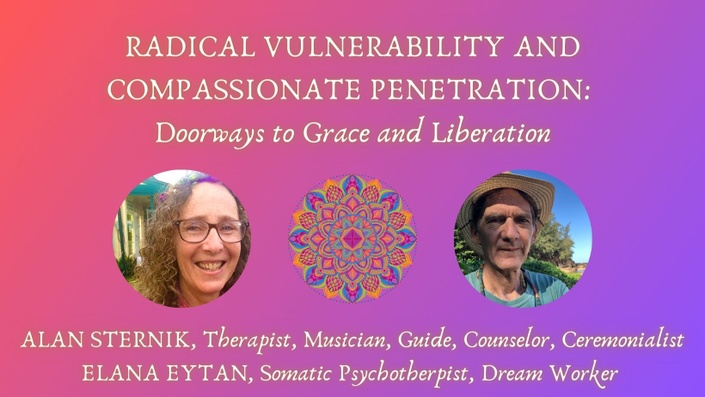 Radical Vulnerability and Compassionate Penetration: Doorways to Grace and Liberation
A "Re-Becoming the One" Workshop with Alan Sternik and Alana Eytan
Join Us!
Join Alan Sternik and Elana Eytan for this beautiful, transformational workshop.
Join live on Friday, June 16, 2023 and/or have the recording indefinitely!
PEOPLE OF ALL GENDERS ARE WELCOME.
Our life circumstances are never stable. At some point what we hold as solid and secure falls apart. Opening to this truth and nakedly facing it, invites an initiation of the heart. To the degree that we can allow ourselves to be vulnerable, we can recognize our true nature. In those moments we know our invulnerability, our true refuge and we spontaneously act with penetrating compassion. Penetrating compassion pierces the veils of delusion instantaneously... It is our inherent responsiveness that uses all experience and circumstances skillfully. It is the true power that can shower us with grace and liberate us from our limited identities.
Using ceremony, experiential exercises, poetry and song we will create a sacred container within which we can celebrate the this ecstatic dance of the sacred feminine and the sacred masculine : radical vulnerability and compassionate penetration.
This workshop is part of the Re-Becoming the One 2023 symposium.
This workshop (and each of the Re-Becoming the One workshops) come with access to the live community sharing circles each week of June 2023, as well as an ongoing, private, online community circle.
If you would like to join all of the workshops for Re-Becoming the One 2023 for a discounted bundle price, please join us at this link: https://living-the-one-light.teachable.com/p/re-becoming-the-one-all-in-one-bundle
Thank you for supporting this healing work in our world!
Course Curriculum
Welcome to This Workshop!
Available in days
days after you enroll
Links for the Free Talks and the Paid Workshops
Available in days
days after you enroll
Your Instructor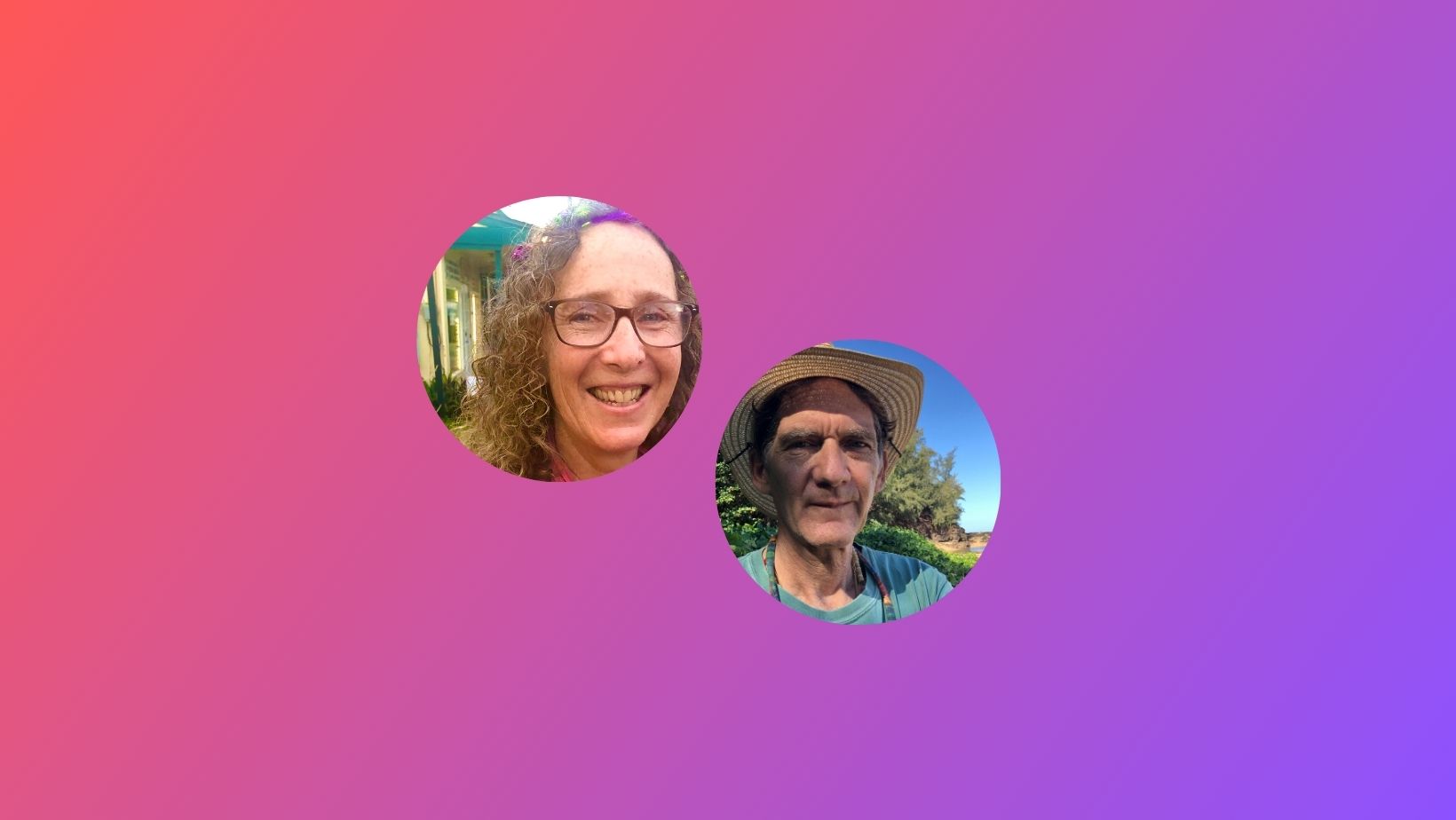 ALAN STERNIK:
My name is Alan Sternik. I'm sixty four so I've been cooked in the stew and marinating in the brew of this challenging and miraculous dance of living for a good while now. I started my explorations of healing and transformation with a student of Fritz Perls, the founder of Gestalt therapy, in the 70s. I have been designing and leading men's retreats for initiation into authentic, non-violent, sacred masculinity for a number of years. My work is informed and inspired by three magnificent, potent lineages of wholeness: One: An indigenous wisdom lineage: In my twenties I was adopted by an Arapaho medicine man and ceremonial elder and spent many years participating in medicine ceremonies with him. I was blessed to be immersed in an authentic indigenous spiritual and shamanic path of reverence and respect for all of life. Two: a non-dual wisdom lineage: Also in my twenties, while going through a dark night of the soul, I met the renowned Advaitist master, Nisargadatta Maharaj in India. My humor was restored and I began a lifelong love affair with the paths of awakening through the view of non-duality. In the early nineties I took refuge with a Dzogchen Lama in the Vajrayana Tibetan tantric lineage. I have been a student of this Lama for over twenty eight years now. Three: modalities of somatic, body based psychotherapies: the adventure with these modalities started with gestalt many years ago and I am now a student of Hakomi. Body based, transformational emotional and psychological healing is a crucial component of the men's work that I am involved with. I am a community organizer in Kauai for the Mankind Project, which produces and hosts events for men's initiation.
CONNECT WITH ALAN:
Phone: 415-249-7918
Email: [email protected]
ELANA EYTAN:
I am someone who is interested in exploring the intersection of creative expression, depth psychology and ceremonial encounters with the sacred in ways that deepen and expand our awareness. I have taught Jungian based dream workshops, am a student and practitioner of Somatic Psychotherapy, and I facilitate circles and workshops oriented around directly experiencing our raw and uncontrived humanness.