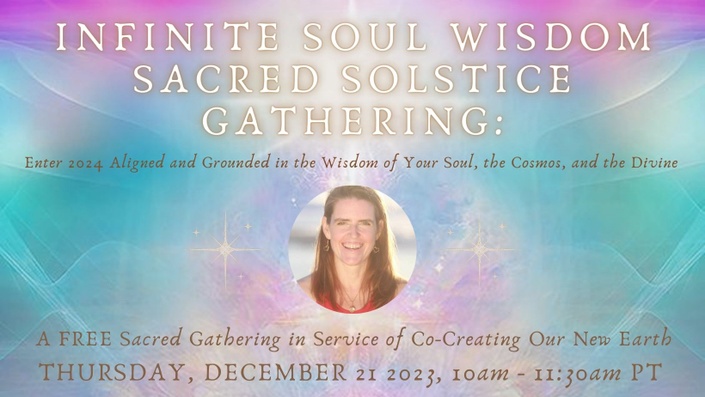 FREE Infinite Soul Wisdom Sacred Solstice Gathering
A FREE Sacred Gathering In Service of Co-Creating Our New Earth
Watch Promo
Hello, Beautiful Soul...
JOIN US for a FREE Infinite Soul Wisdom Sacred Solstice Gathering LIVE on December 21, 2023 AND RECORDED.
The World Is Calling.

The Spirit World Is Calling.
In this time, we have a longing for unity, balance, and harmony in our world, in our lives, and in ourselves.
The spirit world has the same vision and is supporting us to come into that ultimate unity state, the natural state of our beings and the natural state of existence.
The spirit world is adamant that it is time NOW for us to remember this reality of ourselves. They are adamant that this is the time for us ALL, as beings of existence to join TOGETHER.
They want to support us in doing this.
This FREE gathering will be held live AND RECORDED on Thursday, December 21, 2023, 10am - 11:30am PT.
The recording will be available for you to enjoy indefinitely, any time and as often as you like!
We all know in our minds that "separation is an illusion." Many of us may even have experiences of the unity of existence - in meditation, prayer, in various life experiences.
And yet, the spirit world is saying that NOW IS THE TIME for many of us to experience and to come into the ENERGETIC OF ONENESS on a BEING level, on an ENERGY level, on a cellular and subatomic level.
When we entered this lifetime and this incarnation, our energy bodies, physical bodies, and emotional bodies were formed based on the assumption of duality and separation.
Our lives on this planet largely enforce the assumption of duality and separation to our beings.
So as the spirit world says, THE TIME IS NOW for many of us to be held to know and feel, maybe for the first time in this lifetime, what it is to be in a state of unity and oneness IN OUR OWN BEING, in our own ENERGETIC way of being.
The December Solstice is a magical time.
December Solstice this year is a time when we are being called to join together and align into divine Oneness and divine being in a way that perhaps we have never known before.
During this gathering, we will drop into sacred ceremony and in a sacred, channeled message and experience of ourselves as energy beings created of the pure essence of the oneness of Source itself, the Divine Itself.
We will join with each other, join with the spirit world, join with the stars themselves and the entire light grid of the time space continuum and beyond.
Join us to align as the oneness that is YOU.
Join us to align as the Divine.
Join us to enter 2024 being held and supported to align as the pure, energetic being that is YOU.
This is one of the greatest gifts we can give to ourselves, to each other, and to our world.
Please invite anyone and everyone you feel called to invite, anyone who might benefit.
See you soon!
Your Instructor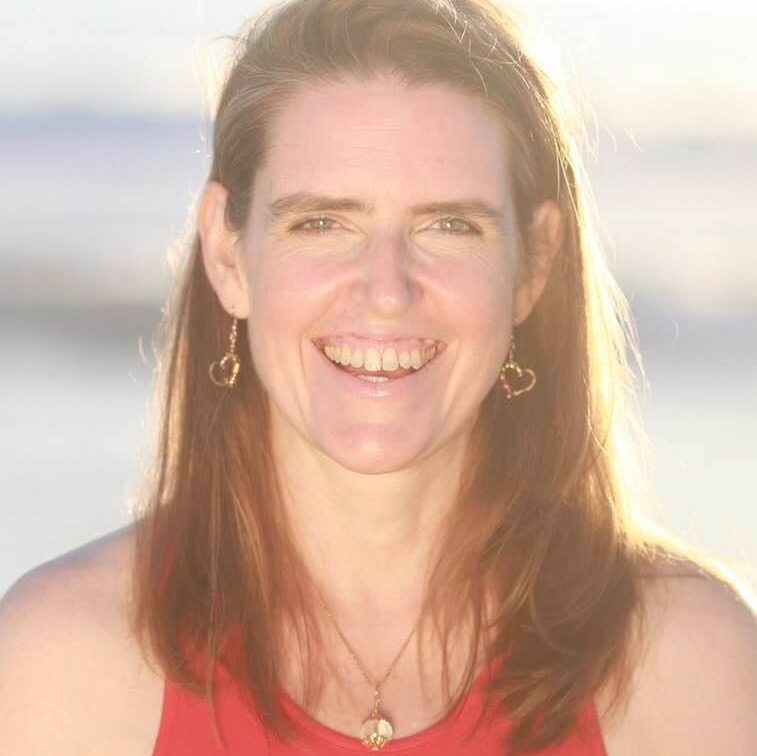 Martha Alter Hines is a mother, an author, a healer, and an astrologer. Martha has twenty years of experience as a clinical social worker, psychotherapist, and body worker.
Martha is channeling a series of eight books called the Living the One Light series.

She has primarily studied Evolutionary Astrology with Ari Moshe Wolfe and is currently a student of Heather Ensworth as well.
Martha bridges her trauma informed clinical background with her astrological knowledge, as well as a deep understanding of ourselves as beings of the cosmos, Earth, divine, heart, mind, and so much more.
Martha was born in Thailand and grew up in Bangladesh, Pakistan, Kenya, and the United States. She has a life long passion for helping to alleviate the suffering of our world.
Martha is dedicated to serving our world, to helping us each to thrive, and to supporting us to come back into the infinite wisdom and healing that is our natural state of being.
As the spirit world says to Martha, "We are midwifing ourselves back into a remembering of all of who we truly are."
CONNECT WITH MARTHA:
Email: [email protected]
Website: https://livingtheonelight.com
Facebook: https://www.facebook.com/livingtheonelight
Youtube: https://www.youtube.com/channel/UCgNGs08tGaA3AdK0LpuWJTg
Teachable Site: https://living-the-one-light.teachable.com
Course Curriculum
Welcome!
Available in days
days after you enroll
Additional Support To Deepen and Nurture Your Own Infinite Soul Wisdom and Yourself
Available in days
days after you enroll
Personal Support
Available in days
days after you enroll
Frequently Asked Questions
How long do I have access to the course?
How does lifetime access sound? After enrolling, you have unlimited access to this course for as long as you like - across any and all devices you own.