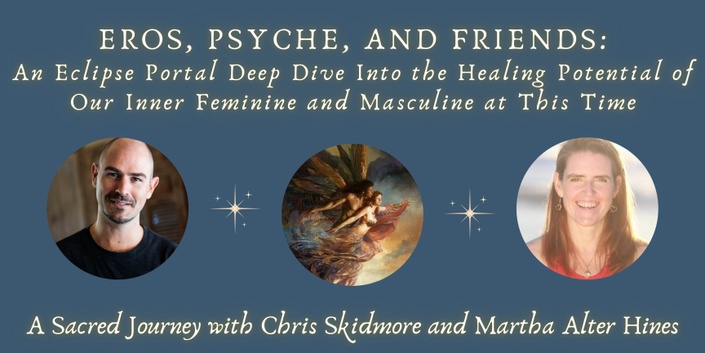 Eros, Psyche, and Friends
An Eclipse Portal Deep Dive Into the Healing Potential of Our Inner Feminine and Masculine at This Time
A TWO PART ECLIPSE DEEP DIVE INTO THE HEALING OF OUR INNER FEMININE AND INNER MASCULINE!
JOIN US!!
October 14, 2023, 6pm PST - 8pm PST/October 15, 2023, 11am - 12:30pm AEST
AND
October 28, 2023, 6pm - 8pm PST/October 29, 2023, 11am - 12:30pm AEST
The workshop will be recorded, so you do NOT need to be there live, although we would love to have you there live!
Are you feeling a deep calling for healing between your inner feminine and your inner masculine?
Are you feeling a deep calling for healing in the relationships in your lives, especially between feminine and masculine?
This time we are in, especially with the nodes of the moon having just moved into Aries and Libra, and especially with Pluto squaring the nodes of the moon, is a particularly powerful moment of potential for this EXACT healing - in ourselves, in our relationships, and in our world.
Typically, we look in astrology to Mars and Venus to inform us of our relationship to the masculine and feminine.
At the same time, there are many other archetypes that can help us to explore and to heal even more deeply.
During the eclipse season of October 2023, the energies of the potential available for working with the polarities of our inner and outer masculine and feminine are incredibly alive.
One question that is arising for many of us is:
"How do we move through this time to emerge with something new rather than simply repeat the patterns of the old?"
Join us in a two part workshop series held live (and recorded) on the exact days of the two October 2023 eclipses.
We will drop into healing space together, with the energies of these powerful eclipses to explore the healing potential available in this time.
We will do this through dropping into our own inner feminine and our own inner masculine and then exploring these in the astrology of Mars and Venus, but also by weaving in the archetypes, mythology, and healing available in our relationships with Eros and Psyche as well.
THE TWO PART WORKSHOP
PART ONE: October 14/15, 2023
"The Healing Opportunities of This Time Through the Inner Feminine and Inner Masculine"
Come into sacred space at the time of the two eclipses in the October 2023 eclipse season
Start by being guided into a deep dive to find and learn from your inner feminine and your inner masculine
Identify the healing opportunities alive for YOU in this eclipse season and beyond, especially with regard to the healing of your inner sacred union and your outer relationships as well
Explore the mythology and astrology associated with Venus, Mars, Eros, and Psyche
Be supported to set an intention for your personal healing journey in this eclipse season and beyond
PART TWO: October 28/29, 2023
"Deepening the Healing and Learning as the Eclipse Season Supports Us"
Come into sacred space again at the time of the second eclipse in the October 2023 eclipse season
Be guided again into finding and learning from your inner feminine and your inner masculine
Notice the ways in which your relationship with your inner feminine and inner masculine are changing, growing, healing during this eclipse season
Explore more deeply the mythology and astrology associated with Venus, Mars, Eros, and Psyche
Discover how the eclipse energies and the archetypes of Eros, Psyche, Venus, and Mars can continue to support your healing, your self discovery, and your inner and outer relationships of the masculine and feminine
Develop a deeper understanding of yourself and of the world to create a greater sense of ease, calm, joy, and deep love in yourself, in your relationships, and in our world
People of all genders and sexual orientations are welcome and celebrated.
In addition, people of all levels of astrological knowledge or experience are welcome as well, from beginners to practicing astrologers, and in between.
We would love to have you as part of this beautiful community healing and learning space.
Your Instructor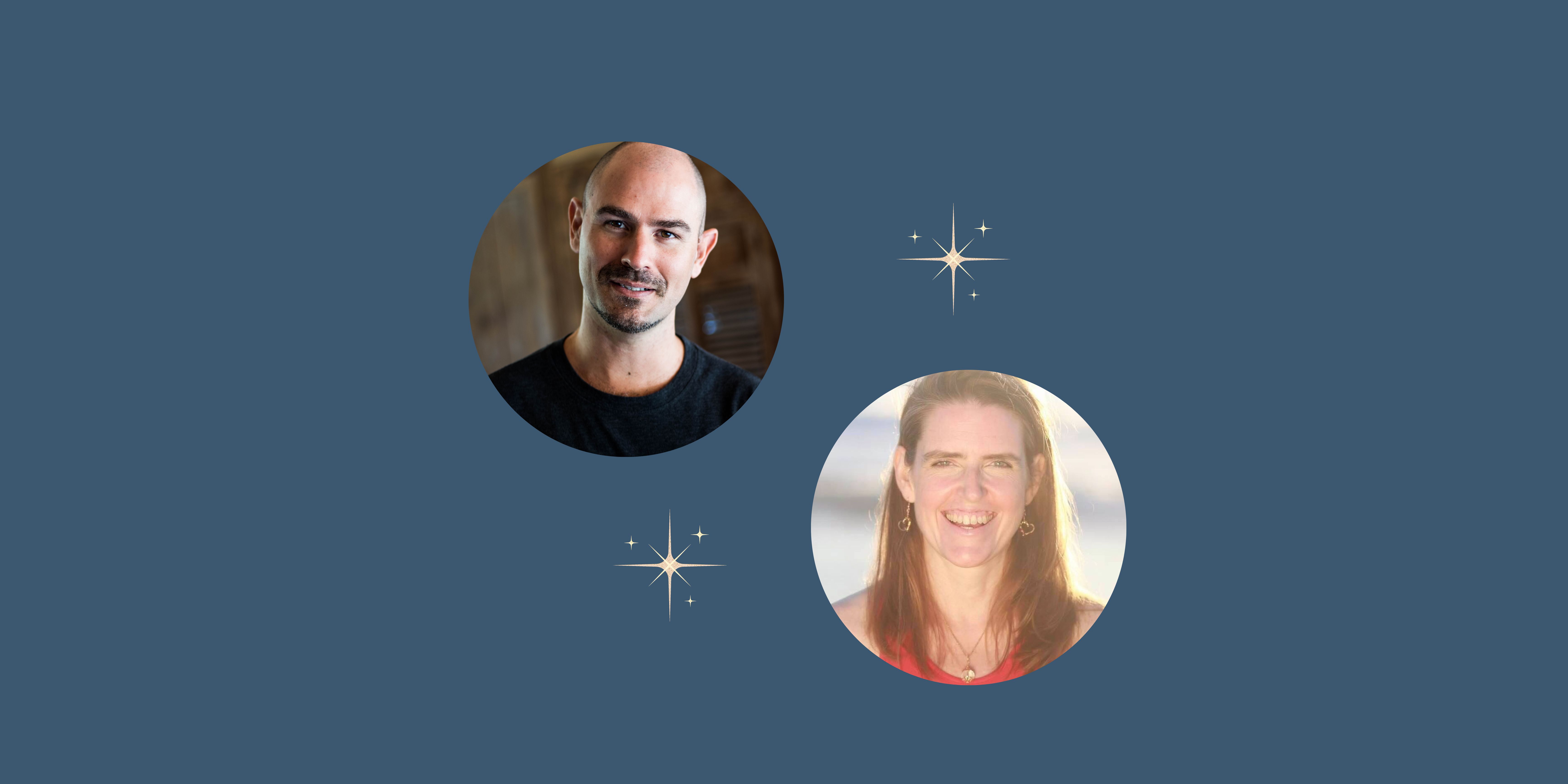 Chris Skidmore weaves together the three disciplines of Astrology, Biodynamic Craniosacral Therapy and Process-Oriented Psychotherapy. His work is informed by his deep love and study of Greek Mythology and its illustration of the human condition in an unfiltered dream-like language. Following in the path laid down by depth psychology, he believes that we can find resemblances of our current life situations in ancient myths. By doing so the stories often reveal creative solutions to life's seemingly impossible conundrums and cycling patterns.
He is in private practice in Ubud, Bali, Indonesia and works both in person and over Zoom. Later this year he plans to begin teaching Astrology through a mythic lens.
CONNECT WITH CHRIS:
Website: https://onthesoulsterms.com
Instagram: @on_the_souls_terms
Martha Alter Hines is a mother, an author, a healer, and an astrologer. Martha has twenty years of experience as a clinical social worker, psychotherapist, and body worker.
Martha is channeling a series of eight books called the Living the One Light series.

She has primarily studied Evolutionary Astrology with Ari Moshe Wolfe and is currently a student of Heather Ensworth as well.
Martha bridges her trauma informed clinical background with her astrological knowledge, as well as a deep understanding of ourselves as beings of the cosmos, Earth, divine, heart, mind, and so much more.
Martha was born in Thailand and grew up in Bangladesh, Pakistan, Kenya, and the United States. She has a life long passion for helping to alleviate the suffering of our world.
Martha is dedicated to serving our world, to helping us each to thrive, and to supporting us to come back into the infinite wisdom and healing that is our natural state of being.
As the spirit world says to Martha, "We are midwifing ourselves back into a remembering of all of who we truly are."
CONNECT WITH MARTHA:
Email: [email protected]
Website: https://livingtheonelight.com
Facebook: https://www.facebook.com/livingtheonelight
Youtube: https://www.youtube.com/channel/UCgNGs08tGaA3AdK0LpuWJTg
Teachable Site: https://living-the-one-light.teachable.com
Frequently Asked Questions
How long do I have access to the course?
How does lifetime access sound? After enrolling, you have unlimited access to this course for as long as you like - across any and all devices you own.